HLS A `Beacon School In Holocaust Education'
Higham Lane School has been awarded the status of `Beacon School in Holocaust Education'.
The accolade comes from the Centre for Holocaust Education (formerly known as HEDP), which is part of the highly-respected Institute of Education (IoE), the world's leading university in the field of education according to the 2014 World University Rankings.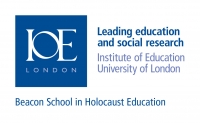 A Beacon School is committed to the view that the Holocaust is a critically important part of young people's education while appreciating the complex challenges it raises as a school subject.
``Only 20 secondary schools in England are chosen for this new scheme, which puts Higham Lane at the forefront of the latest teaching and research about Holocaust Education,'' says lead teacher Mr Preston, Assistant Subject Leader for History.
Key areas of focus for Higham Lane as a Beacon School are: Leading and co-ordinating a whole school approach to Holocaust Education, specifically targeted at the needs of students; the Senior Leadership Team making Holocaust Education a priority and advocating to other schools more effective Holocaust Education; and aiming to emerge as a dynamic hub within school networks, a model of how good teaching and learning about the Holocaust can make a major contribution to young people's education.
As already stated, one key purpose of a Beacon School is to serve as a dynamic hub co-ordinating a network of local schools in partnership with the IoE in providing the country's leading professional development in Holocaust Education.
This will constitute a network of at least five schools, with whom Higham Lane will also share ideas and experiences that underpin our new whole school approach to Holocaust Education.