Caring Students Are One Of A Kind!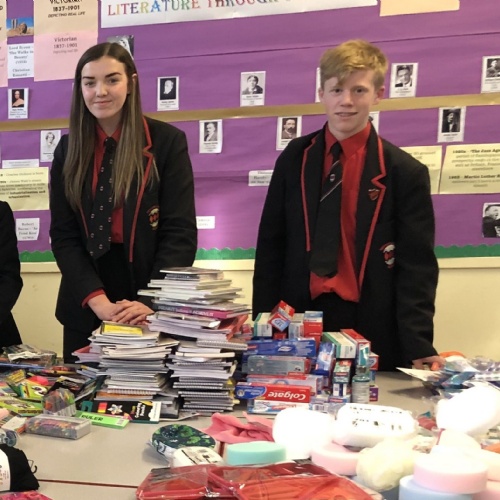 The caring nature of Higham Lane School's charitable students was shown when they were invited to bring in a series of everyday items to help make up Kindness Kits.
A Kindness Kit is a box filled with brand new essentials which are then sent to needy children, aged 10-13, in less privileged countries such as Romania, Syria, Iraq and parts of Africa.
Containing stationery, toiletries and small items of clothing, the kits are really simple, but for someone who doesn't own many possessions, they are an amazing gift. It also shows that people in other countries can be caring, generous and compassionate.
Over a three-week period, the School's Junior Leadership Team, along with Year Ambassadors, asked fellow students to bring in useful items such as exercise books, pencils, soap and socks.
Thanks to an overwhelming response from students, a total of 53 Kindness Kits were put together before running out of bags!
These were collected together by Mrs Bowers and delivered to the charity `Feed the Hungry', who distributed the Kindness Kits to their local partners working on the ground in several countries around the globe.
Below: Members of the Junior Leadership Team and Year Ambassadors with the wide array of items donated by the School's generous students.