Esther Specially Chosen For Prayer Reading By High Sheriff!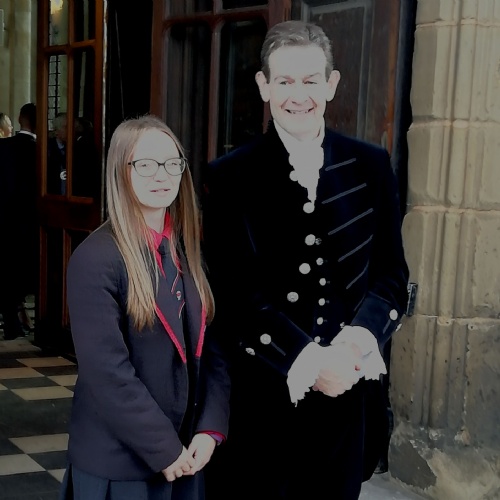 Higham Lane School is absolutely delighted that Head Girl, Esther, was specially chosen to read the Prayer of St Francis of Assisi at the High Sheriff of Warwickshire's Legal Service at The Collegiate Church of Saint Mary in Warwick on Monday 14th October.
Esther was invited to take part in the service by The High Sheriff, Simon Miesegaes, when he visited Higham Lane in July and was so impressed by the School and particularly its Junior Leadership Team, of which Esther is a key member.
The church in Warwick was packed with distinguished representatives of the judiciary, the emergency services, the armed forces, local government, police cadets and schools from across Warwickshire. Stunning song and musical performances were offered by local school choirs and musicians and The Carice Singers. The Very Reverend John Witcombe, The Dean of Coventry, gave the address.
Headteacher, Phil Kelly, who had the pleasure of attending the service with Esther's parents, commented: "We are so proud of Esther! She read superbly, with great clarity and expression and many members of the congregation came up to Esther after the service to congratulate her! We are thrilled that Higham Lane, a comprehensive school in the north of the county, was chosen to play such a significant part in this wonderful occasion!"