We Will Remember Them!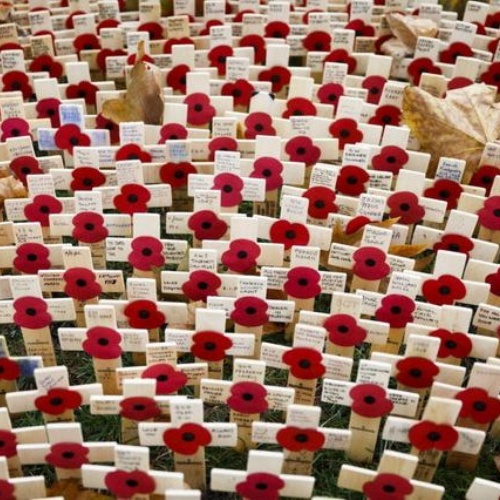 Higham Lane School saluted the nation's fallen and wounded heroes during Nuneaton's Remembrance Service commemorations, held on Sunday.
Representing the School was Headteacher, Mr Kelly, along with Head Girl and Head Boy, Esther and Will, and the President of the Sixth Form Student Union, Megan. Several other Higham Lane students were also involved with the commemorations in various capacities.
This year's parade and memorial service was held in cold but bright autumnal conditions, resulting in Coventry Street and Coton Road being thronged with townsfolk eager to pay their respects to the brave service men and women who, down the years, have sacrificed their lives for the country.
During the act of Remembrance, several poppy wreaths were laid at the War Memorial in Riversley Park, prior to a bugler sounding `The Last Post' as standard-bearers lowered their flags in respect of the fallen.
Below: Higham Lane School's Head Boy and Head Girl, Will and Esther, along with President of the Sixth Form Student Union, Megan, prepare to lay a wreath at Nuneaton's Remembrance Sunday commemorations.